California Scholarship Federation & National Honors Society
About The California Scholarship Federation
Founded in 1921, the California Scholarship Federation is the oldest scholastic, scholarship institution in the state of California. CSF emphasizes high standards of scholarship, and community service for California high school students. CSF encourages service to the school and the community while fostering pride in academic achievement.
Membership in CSF is by semester in the 10th, 11th, and 12th grades and is based upon academic standing and service to school and/or community. In order to become a member, the student must submit an application each semester the student is eligible. A point system specified in the CSF State By-Laws establishes the membership requirements. To secure eligibility for CSF membership, a student must earn sufficient points from pre-approved course lists. The majority of the required membership points must come from University of California accepted course work.
Life Membership (Sealbearer) is achieved by qualifying four or more semesters in the last three years of high school (not including Freshman year), and earns the CSF Gold Seal on diplomas. One of the semesters must be from grades earned during the senior year.
Freshman
Freshmen may join CSF after they have completed one semester of high school. They are considered junior or associate members under the constitution of the state CSF Board. Therefore, their first year in high school does not contribute to Gold Sealbearer status; once again, only their sophomore, junior and senior years count. However, students are encouraged to join and be recognized for their academic achievement.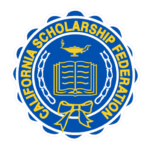 Contact Information
Moderator:
Mrs. Jennifer Kloock

President:
Carissa Sales

Vice President:
Matthew Castanareas

Secretary:
Alanna Sarno

Treasurer:
Sophia Elturk
Contact Information
Moderator: Mrs. Jennifer Kloock
President: Stella Holland
Vice President: Isaiah Crisco
Secretary: Erin Castillo
Treasurer: JoonHo Lee
Service Hours Coordinators: Brandon Tran and Kelsey Abraham

About The National Honor Society
The National Honor Society (NHS) is the nation's premier organization established to recognize outstanding high school students. More than just an honor roll, NHS serves to honor those students who have demonstrated excellence in the areas of Scholarship, Leadership, Service and Character. These characteristics have been associated with membership in the organization since their beginnings in 1921. Today, it is estimated that more than one million students participate in activities of the NHS. NHS chapters are found in all 50 states, the District of Columbia, Puerto Rico, many U.S. Territories, and Canada. Chapter membership not only recognizes students for their accomplishments, but challenges them to develop further through active involvement in school activities and community service.
The National Honor Society is a select organization available to students by invitation only. To receive an invitation, a student must be an upperclassmen in good standing with Garces Memorial and have a cumulative GPA of 4.45 or higher to apply. The application process requires students to complete an application, write an essay, and submit three teacher recommendations. The applicant information is presented to a selection committee for review. The selection committee is not supplied with the names of the applicants. Student anonymity ensures impartiality and a fair selection process. If accepted, the student is notified and attends a formal induction ceremony.
During the school year, the members meet on a regular basis to develop and execute a community service project.
In addition to the honor of being a member of a prestigious group, the members wear a National Honors Society stole over their gowns at both the Baccalaureate Mass and the Garces Commencement Ceremonies.