Founded on Faith | Rooted in Tradition | Growing in Excellence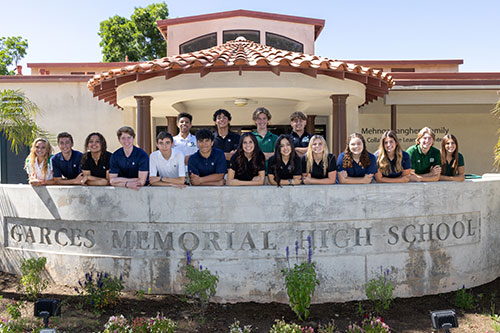 Garces Memorial High School is a Christ-centered community of faith that seeks to provide the best spiritual and academic formation for every student. Our Christian focus offers an environment where students can develop spiritually, academically and socially. These values enable them to recognize their potential as people of God.
Garces Memorial High School is Bakersfield, California's premier Catholic high school, offering a rigorous curriculum that prepares the students to succeed in a higher academic setting. Garces Memorial is an academically challenging, college preparatory, co-educational Catholic high school. Founded in 1947, by the Christian Brothers and Dominican Sisters of St. Thomas Aquinas, the school is a ministry of the Catholic Church administered by the Diocese of Fresno and supported by the Catholic parishes of Kern County. It is staffed by lay faculty and administration that are inspired by their Catholic faith to minister to the needs of the student body.
Garces Memorial High School is a Catholic, Co-educational, college preparatory high school. Our school educates youth to fulfill the mission of Christ by developing students spiritually, academically and socially. Our mission calls to instill every member of the Garces Memorial community the courage to act with faith, knowledge, compassion and justice.
Garces Memorial High School traces its origins back to the earliest days of Catholic education in Kern County. In 1910, the Sisters of Mercy founded St. Francis Elementary School in the basement of St. Francis Church, located on Truxtun Avenue. In 1926, a new two-story school building was built next to the convent. As the years passed and the school grew, Pastor Leo Beacom and the Sisters began to make plans to add a high school that would utilize the vacant second floor of the school building.