For more information about applying to Garces Memorial High School International Program please contact International Admissions Advisor Mr. Henry Lee.
Excellence in Catholic Education
Garces Memorial High School is Bakersfield, California's premier High School. Garces Memorial is an academically challenging, college preparatory, co-educational Catholic high school, founded in 1947 by the Christian Brothers and Dominican Sisters of St. Thomas Aquinas. Today it is operated by the Diocese of Fresno and staffed by a lay faculty and administration who are inspired by their Catholic faith to minister to the needs of the student body.
Garces students develop an intellectual life, a talent for critical thinking and passion for learning that sustains them through college and well beyond. All students receive individual college counseling. Garces Memorial's curriculum, values and culture shape young people who are exceptionally well-prepared for the next phase in their educations.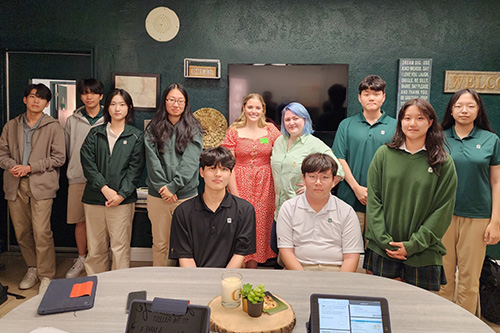 We offer the following programs for your preparation:
College Preparatory Program – Our college preparatory program is based upon the University of California and California State University academic requirements.
Advanced Placement and Honors Program – Garces has a comprehensive selection of course offerings which include honors and AP options.
California Scholastic Federation – This program exceeds the recommended course work of our College Preparatory Program. It requires a minimum number for core courses. Students must meet state mandated requirements to participate. Applications are available on the Garces campus.
Garces Memorial High School offers a total enrollment of more than 500 students allowing us to keep our student to teacher ratio low at 17-1. We are located on a 40 acre campus with impressive facilities including:
Mehnga Sanghera Family Collaborate Learning Center
Biology, Chemistry, Physics, Computer, Digital Photography labs
Leach Family Engineering and Robotics Room
The Robotics Practice and Training Laboratory
Gymnasium (wrestling, volleyball and basketball)
Salvucci Aquatic Center
Campbell Field House, weight room and 'Papa' Joe Campbell Team Room
Fanucchi Baseball Field, Father Brannon Softball Field and Sam Tobias Field for football and soccer.
Football field (with stadium seating and track)
Tennis Courts
Wrestling Room
Music Building
Dance Studio
2023-24 School Year Tuition and Fees
Annual Tuition: $18,000.00 (non-refundable) paid in full by June 30, 2023
Registration/Activity Fee: $500.00 (non-refundable) paid before I-20 is issued.
First Year iPad Fee: $600.00 (non-refundable)
Student Services Fee: (non-refundable) - $300.00 for First Year Students, $550.00 for Returning Students (includes returning student technology fee, student retreat fee (except Kairos), graduations fee, ASB fee, yearbook fee, PSAT testing, parent club fee, parking Fee, CPR training & Certification fee, and miscellaneous classroom material fee).
International Fee: $2,000.00 (non-refundable) paid in full by June 30, 2023
Additional approximate fees/costs:
Textbooks: $200.00
Uniforms: $200.00
PE clothes/uniforms: $50.00
Athletic Fees: $225 for football | $175 for Aquatic sports - Water Polo, Swim and Dive | $150 per sport for all other sports/maximum charge of 2 sports per student.
Spirit Packs/Athletic Practice Uniforms: $150 - $200 per sports
Additional Fees: $45 - $225 (AP testing, dances, Kairos retreat for juniors and seniors, etc.)
Tuition and Fee Policy
Tuition and fees are to be paid in full before the start of the academic year. Late or delinquent payment of tuition can result in fines or dismissal from school.
REFUNDS – All tuition and fees are non-refundable.
A written statement from the parent or legal guardian is required to withdraw a student from school.
Frequently Asked Questions
Applying to Garces Memorial High School
Step #1: Submit an application.
Step #2: Complete application packet and submit to Mr. Henry Lee.
An official copy of student's grades/transcripts from the past two years of academics, including English translation and school seal.
A scanned copy of the student's passport (and visa or green card, if applicable).
Documentation of iTEP Slate or TOEFL exam.
A scan of a recent photo of the applicant.
A scan of an official copy of bank statement with sufficient funds for tuition and fees
A scan of international immunization record in English.
Step #3: Once we receive the application and all documents, schedule a Skype video interview for the student. Video interviews can last up to 30 minutes.
Step #4: Following the interview, a decision will be made regarding admission to Garces Memorial High School. The decision is made based on the student application, Skype interview, available of host families and the fit of the student. The accepted decision will be emailed to the student.
Step 5#: If the student is accepted they will receive an International Student Agreement. The accepted student has two weeks to return the agreement to Garces. Once the agreement along with the registration fee is turned in Garces will request an i-20.