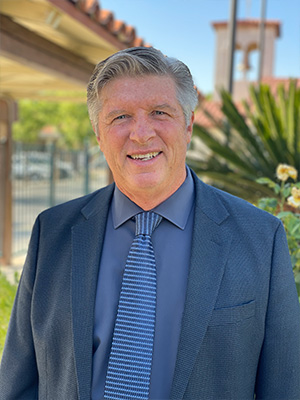 A Message from the President
Garces Memorial High School can assert, with great certainty and full confidence, that it prepares students very well for college. But if that were all we could say about a Garces education, that would not be saying nearly enough.
Of course, being an exceptional college preparatory school is essential, and we are proud of the work our outstanding educators do to prepare our students for what awaits them at the next level - and how well our graduates do when they get there. Our students can be confident that what they are learning at Garces, and how they are learning it, will help prepare them for college and life's work.
But preparation for the future is only a slice of Garces life. It is what happens in the Garces present that matters most. The high school years may be the most transformational years that any of us experience in our lives: the child enters as a freshman and departs four years later as an adult. So, while we want our students to look to the horizon, the Garces experience is mostly about the here and now.
What does that look and feel like? First and foremost, it is about each student knowing that, as a person made in God's image, he or she is sacred. That means that Garces students are not valued for what they can do (though they can do a lot!). They are valued because the spiritual humanism that grounds our mission and identity calls us to see in the faces of each student the spark of the divine within.
That understanding - one that is so counter to a culture that often views humans more like commodities - creates a community that is grounded in care. And that, in turn, makes for a very different kind of campus than what passes for the norm at most high schools. Spend enough time here and that culture of care becomes evident. That's the source of the family feel that is the Garces experience. A special place indeed.
Blessings,
Kent Hickey
President, Garces Memorial High School